Most of the guitar solos of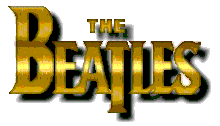 recordings were played by
George
but
not always.
When I'm sure of the guitar used, I'll enter with bold type.
NOTE: all album references, reflect the original Parlophone play lists, NOT the Capitol "hacked" play lists. Release dates are British unless otherwise noted. Details duplicated in the singles will not be found here, rather on the Singles page (nearly always George).

Please, Please Me 3/63
George is playing his Gretsch 6128 Dou Jet
during this project.
With The Beatles

11/63

George is using his favored Gretsch 6122 Country Gentleman
walnut finish. This is the guitar that was destroyed en-route to a gig (Alf Bicknell Beatles roadie describes this in his Beatle Diary tape)

Beatles For Sale

12/64

Every Little Thing -John Rickenbacker 325-12

jetglo

George is using his Gretsch 6119 Tennessean

in this session

A Hard Day's Night 7/64
George is using his Rickenbacker 360-12
during much of this project

as well as the Gibson J-160E

Help! 8/65
Another Girl- Paul Epiphone Casino
Ticket to Ride- middle Paul Epiphone Casino,outro-George(George remembers Paul doing both)/ I've Just Seen a Face-Paul/ Epiphone Texan

Rubber Soul 12/65
/ Drive My Car-Paul,Epiphone Casino George Later Half Paul on slide/ Michelle-Paul/Epiphone Texan I'm Looking Through You-Paul/

Revolver 8/66
And Your Bird Can Sing- Paul upper, George lower/ Here There & Everywhere-Paul Epiphone Texan / Taxman-Paul Epiphone Casino

Sgt. Pepper's

Lonely Hearts Club Band 6/67

SPLHCB- Paul

Fender Esquire /Good Morning, Good Morning- Paul Fender Esquire

Magical Mystery Tour

12/76...11/67U.S.

George used "Rocky" on this project , his

Fender Stratocaster Sonic blue

with a psychedelic paint job done by George himself

The Beatles aka The White Album11/68

Back In The USSR-Paul / Blackbird-Paul

Martin D-28 /Rocky Raccoon-Paul/ I Will-Paul Martin D-28 /Julia -John Martin D-28/ Birthday-John Epiphone Casino /Yer Blues- John Epiphone Casino/ Mother Nature's Son- Paul Martin D-28/ Helter Skelter-Paul Fender Esquire / While My Guitar Gently Weeps-Eric Clapton Gibson Les Paul / Honey Pie- John/ Revolution -John Epiphone Casino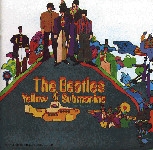 Yellow Submarine 1/69

Altogether Now- Paul

Martin D-28

Abbey Road 9/69

Here Comes The Sun- George Gibson SJ-200

I Want You (She's So Heavy)- John

Epiphone Casino

The End-

John

Epiphone Casino

Paul

Epiphone Casino (Some say Fender Esquire)

George

Gibson Les Paul

,in turn

Let It Be 5/70

The Two Of Us -Paul

Martin D-28

Across The Universe- John

Epiphone Casino

Get Back- John

Epiphone Casino

on to

(who played lead on the Singles)