Guitar Fanatic
part III
Gibson Gear

were influenced by the sound and reputation of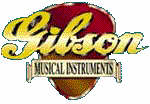 particularly John & George but to some extent Paul. Both John & George played the
J-160 E

a jumbo sized (aka sloped shoulder dreadnought) acoustic guitar with a single coil pick-up (P-90) just after the last fret by the sound hole, with volume and tone knobs on the face.

the SG

12-17-04

this guitar was sold at auction for $567,500

a solid body (all mahogany) with 2 humbuckers, individual vol.& tone controls a pick-up selector and a Maestro vibrato tail piece. This guitar is used by George during the promotional films for

Paperback Writer/Rain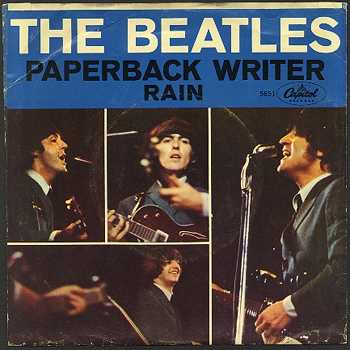 Lady Madonna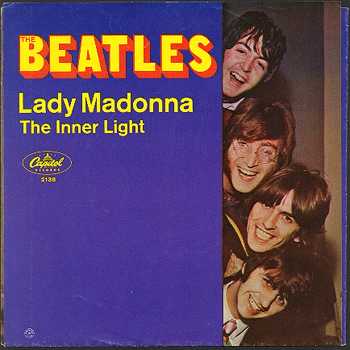 & Hey Bulldog films too!
the Les Paul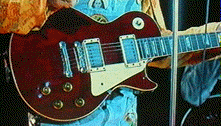 George acquired his first "Paul"

(not McCartney) by way of a gift from his friend Eric Clapton. It's a fairly well known fact that the weeping guitar solo on

While My Guitar Gently Weeps

for the White Album

, was played by Mr. Clapton not Mr. Harrison. see...Not Always A Beatle
seen here in Georges hands. Eric called this one Lucy...in the sky with diamonds?...
probably not!
this guitar is used in the promo film for Revolution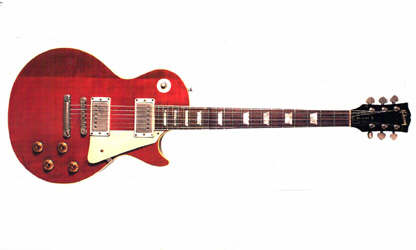 Lucy!...you've got some splainin' ta do!

It seems this guitar was first owned by John Sebastian of the Lovin' Spoonful. Its first incarnation has it as a gold top. Somehow it fell into the hands of Rick Derringer of The McCoys. He returned it to Gibson to refinish it in cherry. Not being too impressed with it, sold it back to the music store from which it came. Clapton bought it and after using it on While My Guitar Gently Weeps, gave it to George as a gift. I always wondered why they (Gibson) chose a dark/light piece of wood for this finish. Realizing now that it was chosen for its original opaque finish.

The

SJ 200 a super jumbo size acoustic guitar known as

"the King of the flat tops"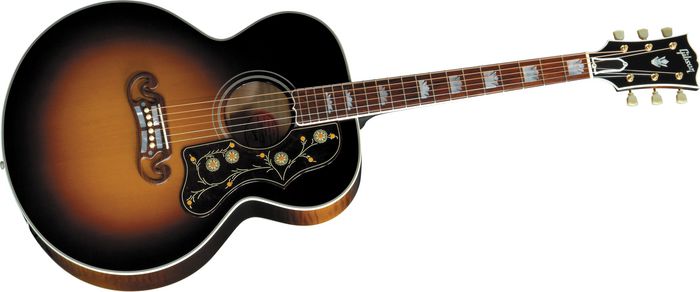 is used by George during the Get Back sessions

as well as Abbey Road ,
Here Comes The Sun, is played on this one, capo on the 7th fret .
The promo films for Day Tripper&Ticket To Ride feature the
ES 345
.

George's cherished "Gent"
George seen here just after his daily constitutional & steam bath.

was destroyed while on the way to a gig. In this emergency it's said that he borrowed an

ES-335 from the Moody Blues.

This photo however, is of a guitar owned by Joe Brown taken while he was in the loo, because he probably wouldn't have let anyone touch it!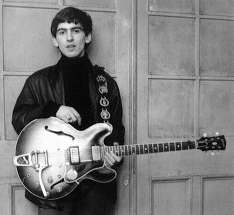 George is seen here being consoled by family & friends over the loss of his pet boa constrictor Bigsby.
_____________________________________________
The structural difference between the ES-335 and the Casino is, the ES-335 is solid thru the center, and the Casino is entirely hollow!(the 335 uses Humbuckers and the Casino uses Single coil P-90s)

(Epiphone is a subsidary of Gibson)
E230TD-Casino

the one guitar that all three (John, Paul, & George) chose, when they could have any guitar in the world ....was the

Casino
Both George & Paul modified theirs to include a Bigsby tailpiece (vibrato).
John stripped the finish off his and refinished it natural, George later had that done to his, also.
Besides
the Epiphone Casino, there is only one other guitar that holds the distinction of being owned by 3 Beatles, both John & Paul as well as George,
at one time or another owned a

Club 40,

never used on any Beatles recordings though.
next